A moment is just a moment – but it lives on in the mind. Memories make up our sense of self, whether childhood remembrances or the first time you met the person you'll marry. These moments can become even more precious with time, expanding in significance and becoming more beautiful every time they're remembered. Yet even the most treasured memories can be fragile and elusive, changed and forgotten – as Virginia Woolf said, "Memory is the seamstress, and a capricious one at that."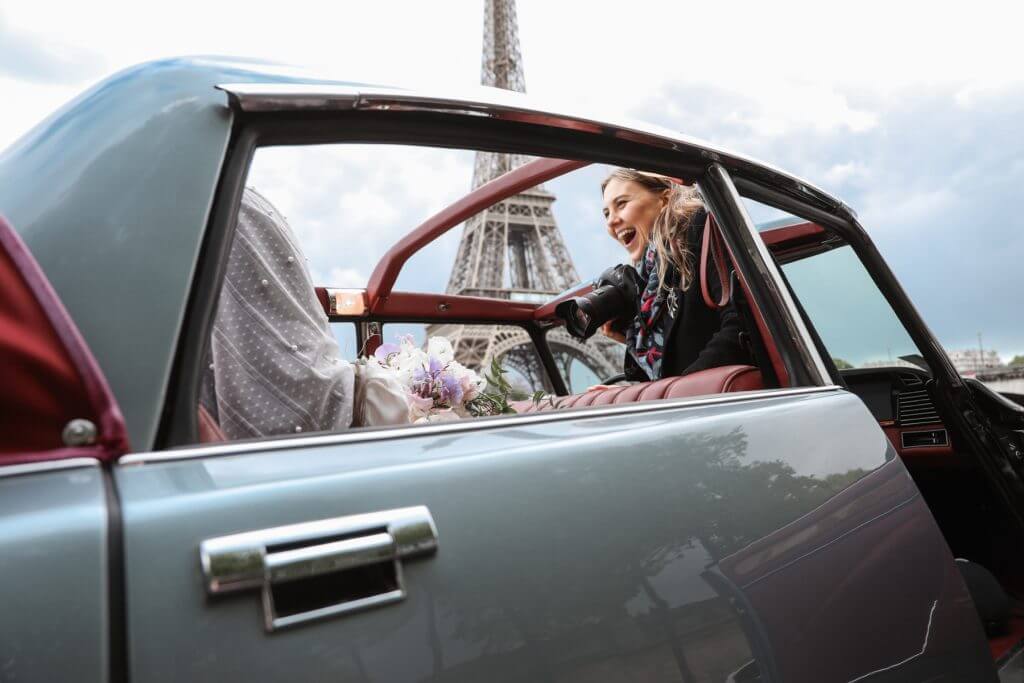 So it makes sense that we yearn to capture a moment to stop it melting away, particularly on the most significant days of our lives. Weddings are planned for months, even years, a single day filled with precious and significant moments – whether just for two or surrounded by friends and family. Letting go into it completely means you need a good photographer, who shares your joy and your vision, to capture moments that can be cherished forever.
A passion for capturing timeless moments to look back on forever is one photographer Daria Lorman has nurtured since she was young: "As long as I remember, I was always taking photos of everyone around me. I got a camera as a gift when I was 12 – since then I always had it with me." It was only when a friend was getting married and asked Daria to take the photos that she travelled to the Netherlands for her first destination wedding – and her first wedding photography job. "After that I did a lot of event photography, until I realised I was most excited about weddings and decided to focus on those." Now she regularly appears in wedding blogs and was even named one of the top ten wedding photographers of Ile-de-France by Mariage.com.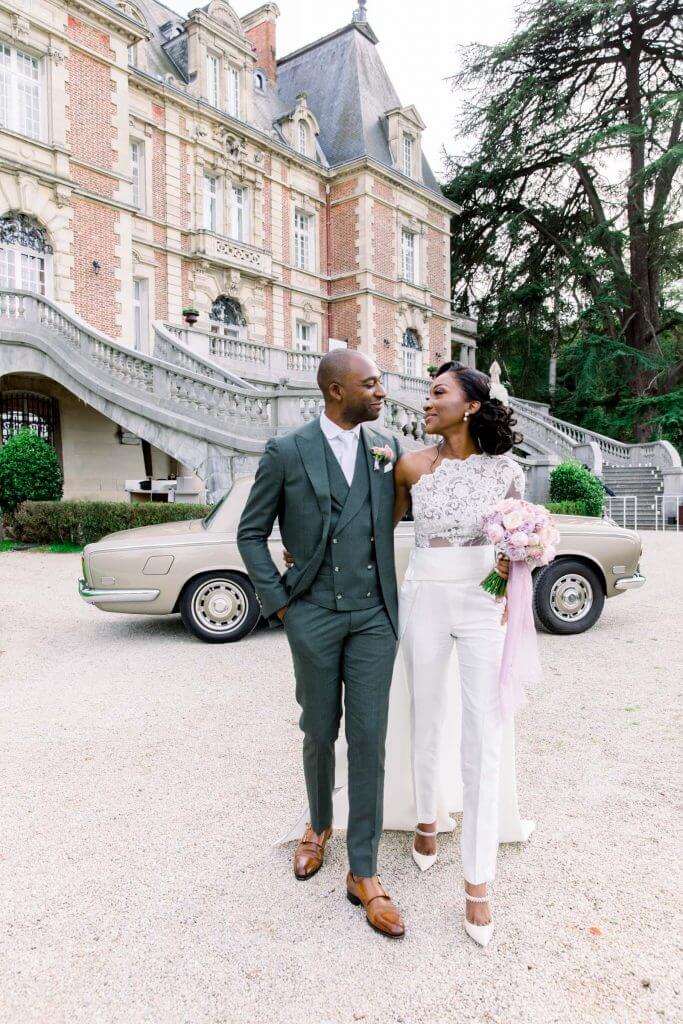 "The biggest myth is definitely that people think it's easy and everyone can do it. A good photographer is a talented artist with a vision of composition and an eye for the details, with years of experience." Creating timeless and elegant photos with a "light and airy" aesthetic, Daria's enjoyed years of shooting everything from engagement and wedding shoots, to honeymoon and anniversary sessions. But her favourites are surprise proposals: "I will never forget the most exceptional surprise proposal for a couple who were 73 years old and went to high school together. They met again after 50 years and fell in love, and I was asked to capture the surprise proposal at the most beautiful Parisian bridge, Alexander III."
Creating a romantic mood is part of what makes Daria's photos so effortlessly elegant. "I shoot digital but with film aesthetics and editing style. And people often ask me if I shoot film, which is actually the best compliment for me." She especially enjoys shooting in natural light, revelling in the "airy look and film aesthetics" it creates. "But I always have back-up lighting options for a dark dancing room so I don't miss any memorable moments!"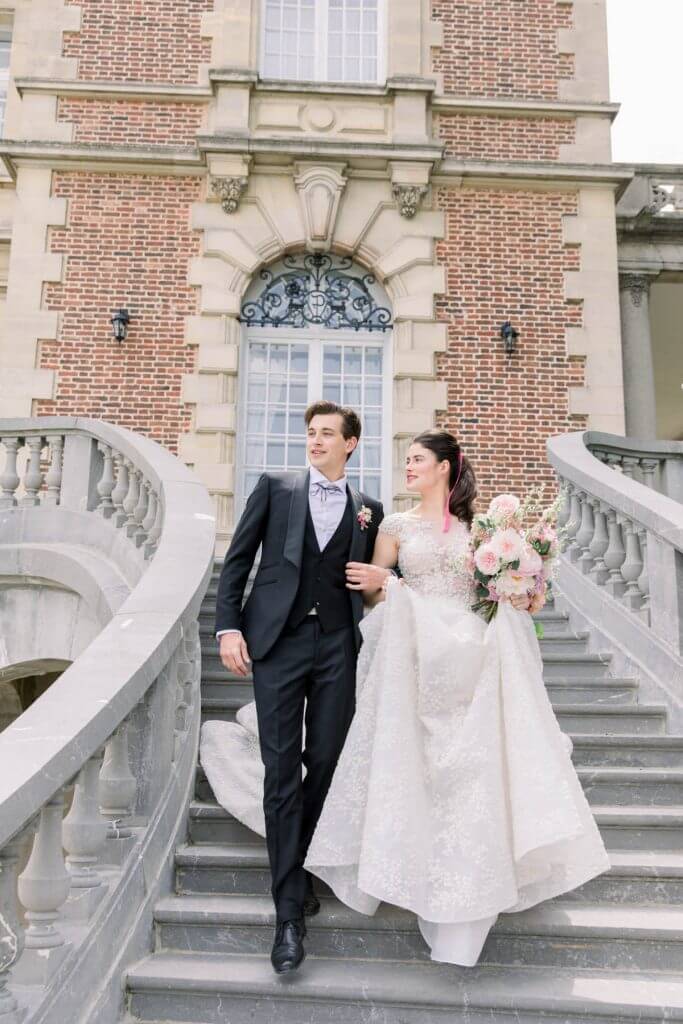 Always looking for new ways of seeing, Daria travels the world – "USA, Brazil, Canada, Indonesia, India, Iceland, Cuba … Travelling definitely makes you a more open-minded person and brings a lot of inspiration" – but her romantic images are most reminiscent of the city of love. "Paris is the city that always inspires me!" She's at home in Château Bouffemont near Paris, too. "Bacchus [château dog] stole my heart and I just love it when he meets me at the gate when I arrive."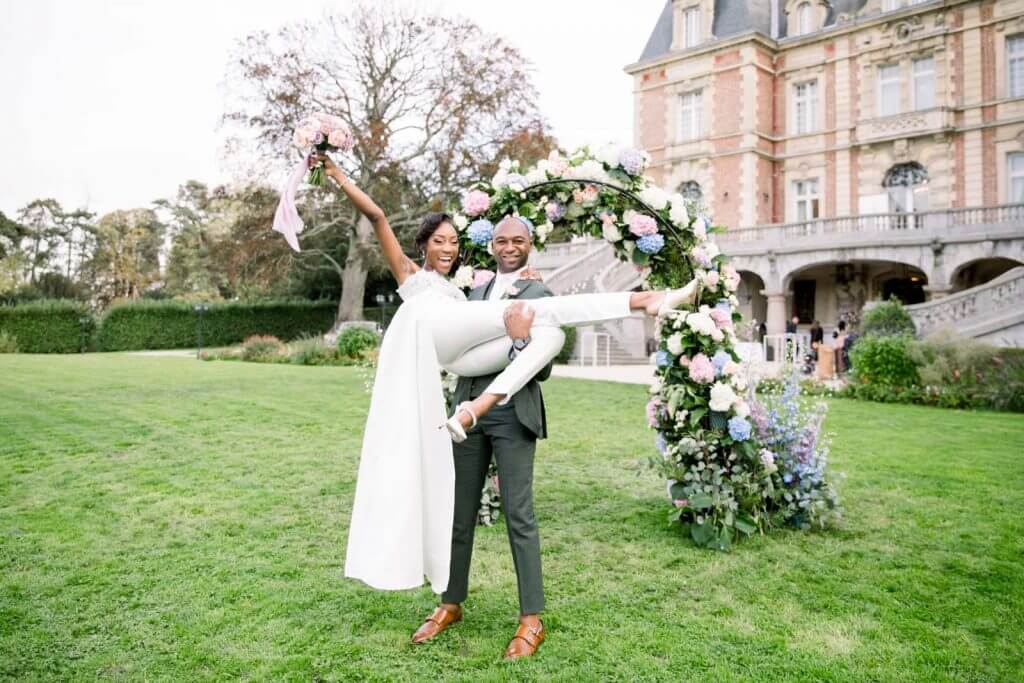 "Château Bouffémont is an extraordinary location! I'm in love with its facade and especially the big stairs outdoors," she says, "And I also love some little details like the Château logo on the keys and an amazing unique ceiling above the stairs indoors. Those big statues around the doors on the ground level always amaze wedding guests too."
Daria understands the spirit of our chateau so well, which is why we love working with her, including on a Marie Antoinette shoot for wedding site Style Me Pretty. "It was so fun to imagine how the modern Marie-Antoinette would look and see it become reality. Our Marie-Antoinette was a true sweet tooth and we really enjoyed eating all those delicious cakes by Bouchra from Sweet Creations Cakes at the end of the shoot. I still dream about that myrtille cheesecake!"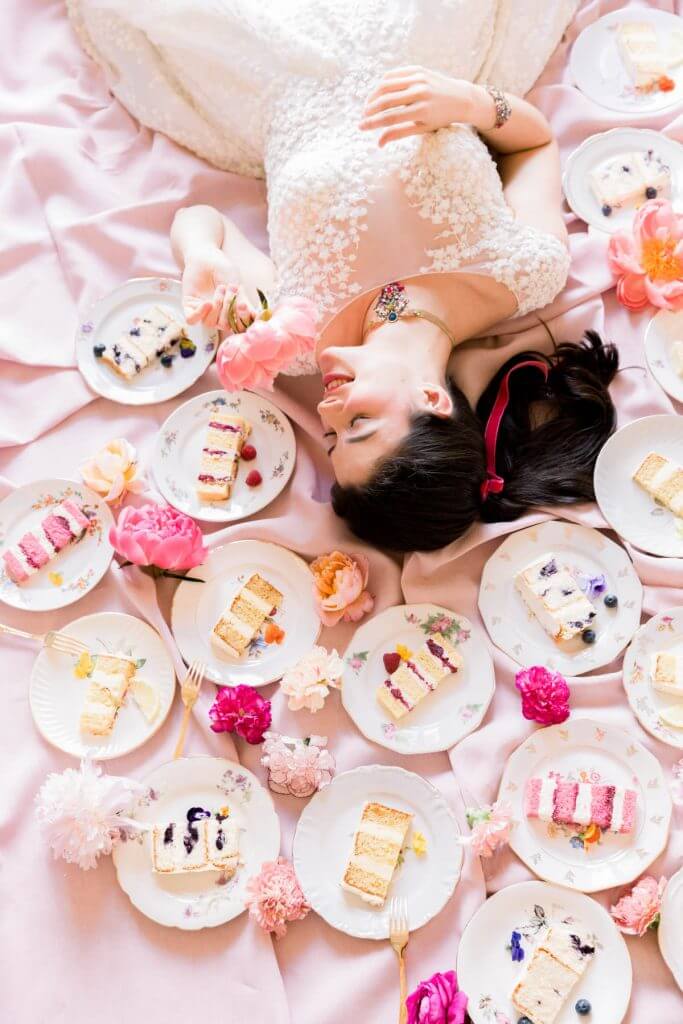 But the work is not without its difficulties. "The greatest challenge is to tell the unique story of the couple through the images, capture the emotions and beautiful moments of the day so that these images stay powerful and timeless through years. I feel so honoured when my clients tell me they dropped a tear while looking at their wedding photos."
Want to capture a romantic moment or elope – just the two – of you at our royal château? Take a look at our Just For Two and Couples Photoshoot sessions.
See you again next time, for more news from the Château!
Keep in touch at @châteaubouffemont