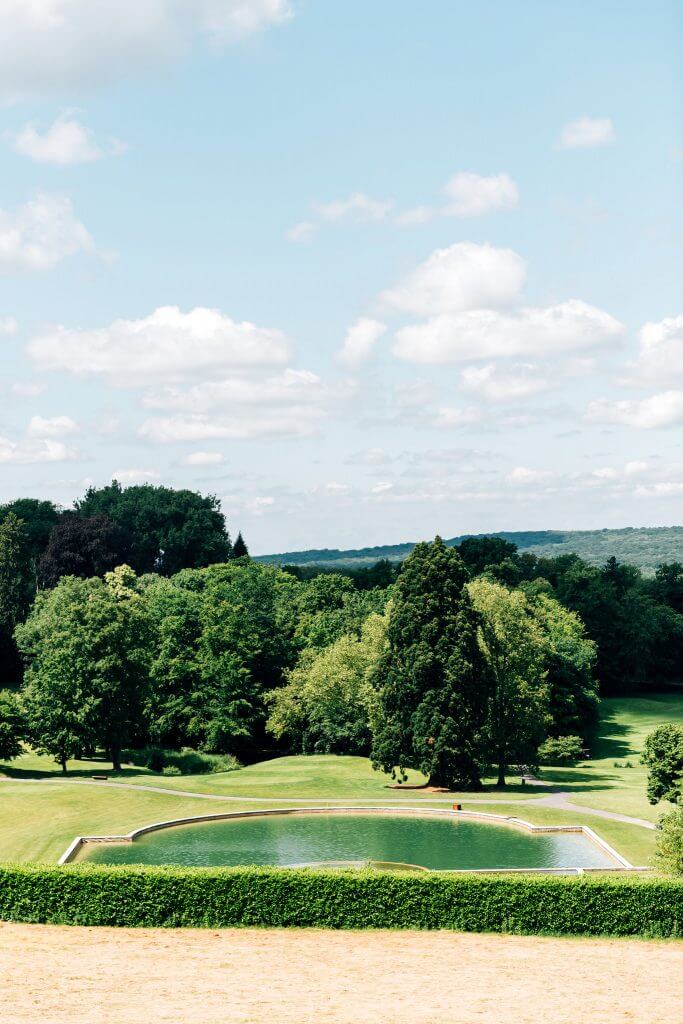 If you are even contemplating staying overnight or holding an event at a French chateau, you will naturally wish to choose a property that draws the eye and woos every person who sees it.
This is why, when you select the historic stone-built Château Bouffémont as your private venue for such purposes, it's reassuring to know that you can experience all of the below…  
The stunning estate
It is customary for many a French chateau to be set in spectacular manicured grounds. However, even by those standards, the five acres of verdant greenery surrounding Château Bouffémont have to be seen to be believed.
After all, there aren't too many French chateaus that can offer such jaw-dropping gardens as ours over not just one, or even two, but three levels, exuding the French classicism that informed the entire design of our estate.
The extensive terrace
Where is the finest spot from which to survey the entirety of the estate during your short time as lord of the manor at Château Bouffémont?
That may come down to individual taste, but the noble stone-built property's 120-square-metre terrace certainly affords quite the place to relax with your favourite tipple as you gaze across our extensive gardens and contemplate how to idle the day away.  
The halls and living rooms
If the sight of the outside of our fairytale venue would already seem to leave you spellbound enough, you simply have to see how the magic continues inside.
Such tasteful, historically sensitive touches as crystal chandeliers, authentic wood panelling and fine fabrics across prestigious spaces like the Dandy Lounge, Grand Salon and Salon des Anges serve as a testament to the remarkable skills and judgement of the Italian architects, Augusto Busnelli and Marco Allievi.  
The suites and guest rooms
Château Bouffémont comprises nine prestigious suites and rooms that are capable of accommodating as many as 27 guests.
These beautifully furnished spaces also demonstrate how adept our venue is at blending aristocratic charm with modern comforts such as flat-screen televisions, radios, telephones, the Internet and Wi-Fi.
Its location in the heart of the Montmorency Forest
One could scarcely choose a more desirable setting for a French chateau than the Montmorency Forest. As the website of the suburban railway service SNCF Transilien explains, this natural area is an invaluable green lung of the Val d'Oise region, 90% of its surface being covered in sweet chestnut trees. It is also an excellent playground for the more active type, with such activities as walking, mountain biking and horse riding all taking place here.
It is also from here that the visitor can easily reach the cosmopolitan delights of Paris, which is situated a mere 30 kilometres from the French chateau.
Many of the world's most renowned art galleries, museums, historical sites, theatres, restaurants and cafes await your discovery in the French capital. So if you have day trips in mind, why not read the Paris tourist office's own advice about the many great things to see and do in the city?
Such ingredients as the above all show that Château Bouffémont can be depended on to take the breath away of everyone who encounters this sought-after former residence of the Marquise of Preignes and Baron Empain. Contact us today, and you will soon be able to experience it for yourself.