Whispers of lace, delicate clouds of chiffon, slithers of silk, a veil lifted gently in the breeze… At the centre of any wedding, the bridal gown offers a story all of its own, from dreamy fairytale to captivating drama. John Keats says it best: "A thing of beauty is a joy forever: Its loveliness increases; it will never pass into nothingness."
Destined for a single, special wear, a dress can be one of the most significant elements of a bride's wedding plans. On this day, an exquisite garment can transcend the physical to embody and exude a celebration of love, the symbolism of the wedding day and the promise that the future holds. Paired with an exclusive wedding destination in France, it creates a day to remember forever.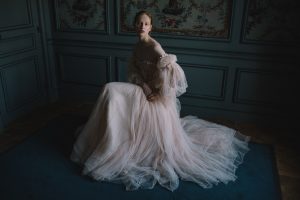 Joanne Fleming is one gown designer who appreciates the potential and significance of the wedding dress, while celebrating its pure, joyful aestheticism. Perhaps she was inspired by a book that's stayed with her over the years: Mademoiselle de Maupin by Théophile Gautier. "L'art pour l'art!" Art for art's sake! cries Théophile in his preface to the novel. "It's one of the books that has stayed with me – an aesthetically perfect and sensuous epistolary meditation on love, longing, romance and beauty in the châteaus of 18th century France," Joanne says.
From there to the Goncourt Brothers' Journal des Goncourt – "a wonderfully gossipy romp through the literary salons of 19th century Paris" – it's easy to see why Joanne fits the air of Château Bouffémont so well: her exquisite gowns and studio perfectly capture the mood, elegance and flair of the Belle Epoque.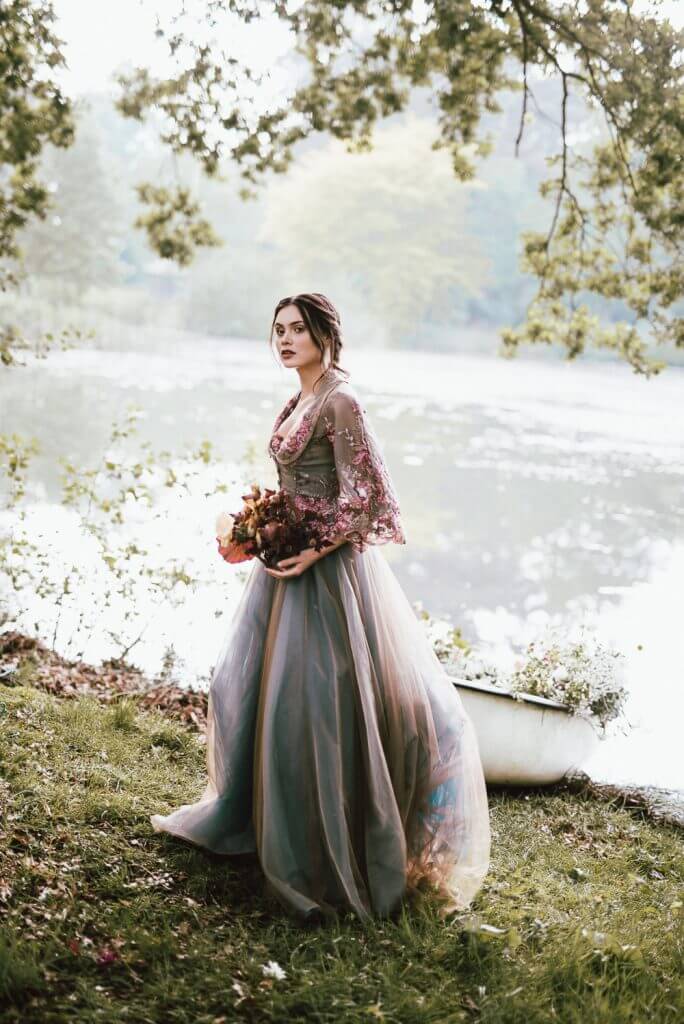 Joanne's imagination is there, too. "There are so many literary characters I'd love to dress… Madame Bovary, Mademoiselle de Maupin, plus all of the heroines of Georgette Heyer's novels," she says. It's easy to imagine these characters in her gowns, wandering the fairytale setting of our royal château near Paris. It's a setting that fits the Joanne's Belle Epoque aesthetic suits perfectly, each a rich and sumptuous visual and sensory experience. And yet her favourite artistic period "has to be the Pre-Raphaelites. They're a constant source of inspiration for their love of nature and jewel colours."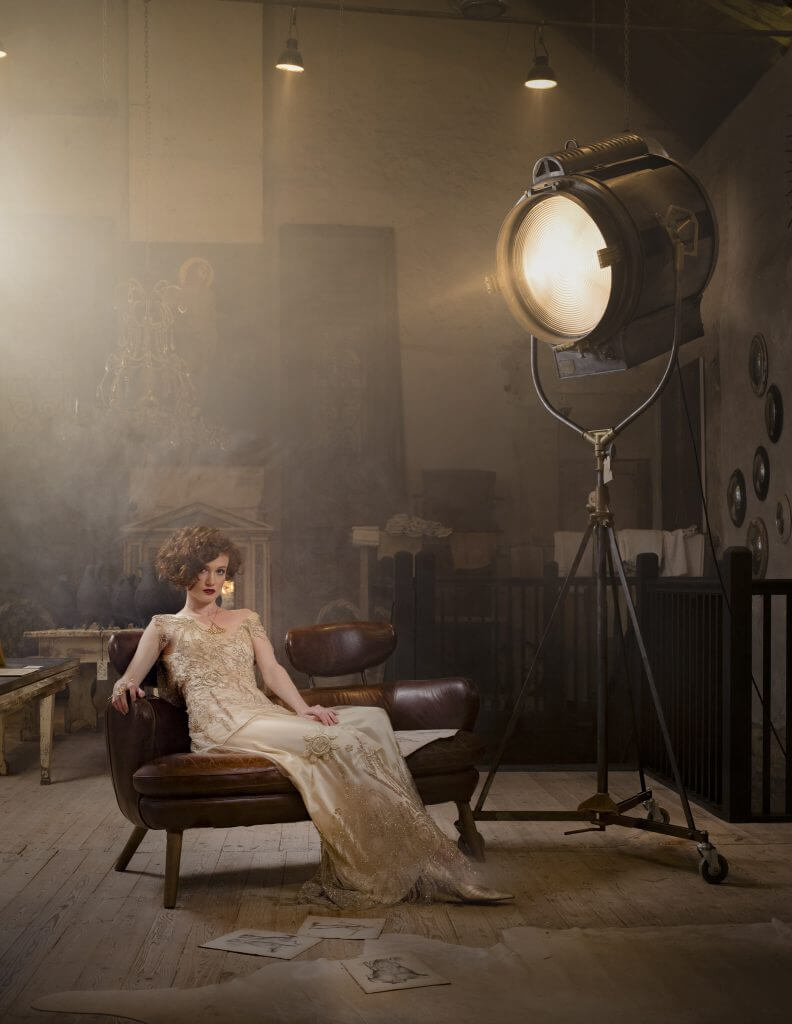 In the same way as her gowns are like stepping into another world, so the beautiful nature surrounding our château has been a source of inspiration for many an artist. It's a meeting of the minds, where Joanne finds herself inspired by nature, romantic literature and art. "Château Bouffémont has everything I would want when I imagine my dream château, from the charming façade with its classic twin stone staircase approach to the fairytale roofline with elaborately carved window surrounds and its mix of elegantly airy and warmly opulent reception rooms."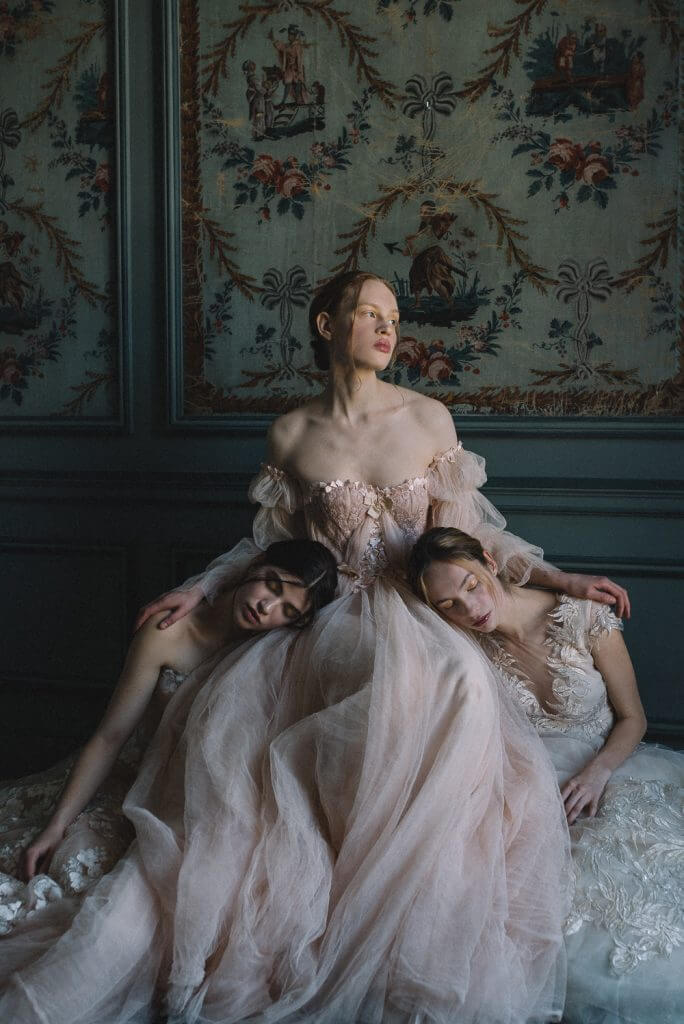 Joanne's gowns are as wedding-worthy as our "jewel of the French countryside". The designer explains that she feels inspired when working with Château Bouffémont because "it's like the gorgeous miniature enameled snuff box or beautifully proportioned intricate marquetry cabinet that one pauses in front of for hours in a museum, every detail carefully thought out and placed 'just so' – but you get to stay there, a fantasy brought to life!"
It's a mutually inspirational aesthetic partnership, and a natural fit for her gowns. Joanne says, "Seeing those gorgeous opulent berry tones of the Salon du Baron walls I knew we could do something with one of my Pre-Raphaelite inspired silk velvet gowns in sumptuous burgundy and gold. Or perhaps the Odette silk organza and tulle gown with swan's wing beaded bodice in classic bridal ivory – a fairytale setting deserves a fairytale gown and it seemed to fit those high ceilings, and the elegant pale tones of the stonework and parquet floors."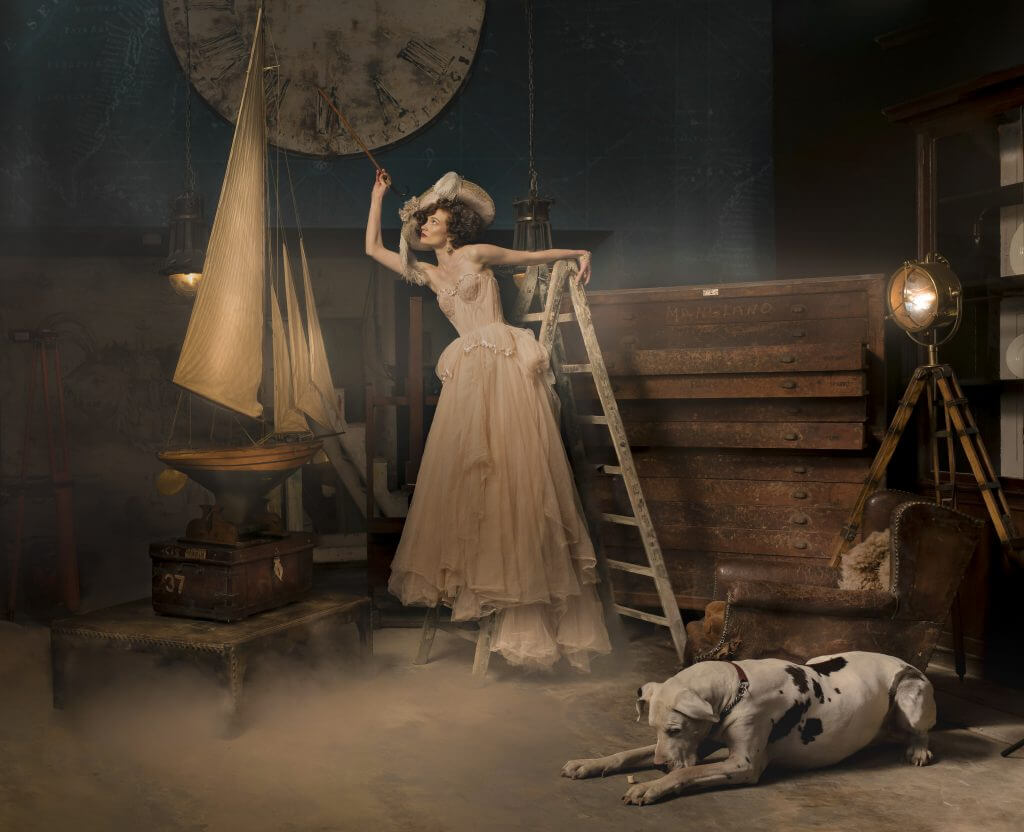 At Château Bouffémont, we aim to anticipate our guests' needs and grant every wish to create the ultimate French château wedding package. Joanna understands, ensuring she's always flexible to the requests of her clients while maintaining absolute control over her exquisite creations at every stage of the creative process.
She draws inspiration from all around, whatever the season. "Spring and summer are lovely for frothy clouds of translucent tulles and silk organzas embellished with our signature floral embroidery, and autumn gives the opportunity to include richer colours and velvety textures, while winter is perfect for frosted sparkles and cosy feathery coats…" Luckily, our French château near Paris, situated on the edge of the Montmorency forest, is a haven of nature throughout the seasons.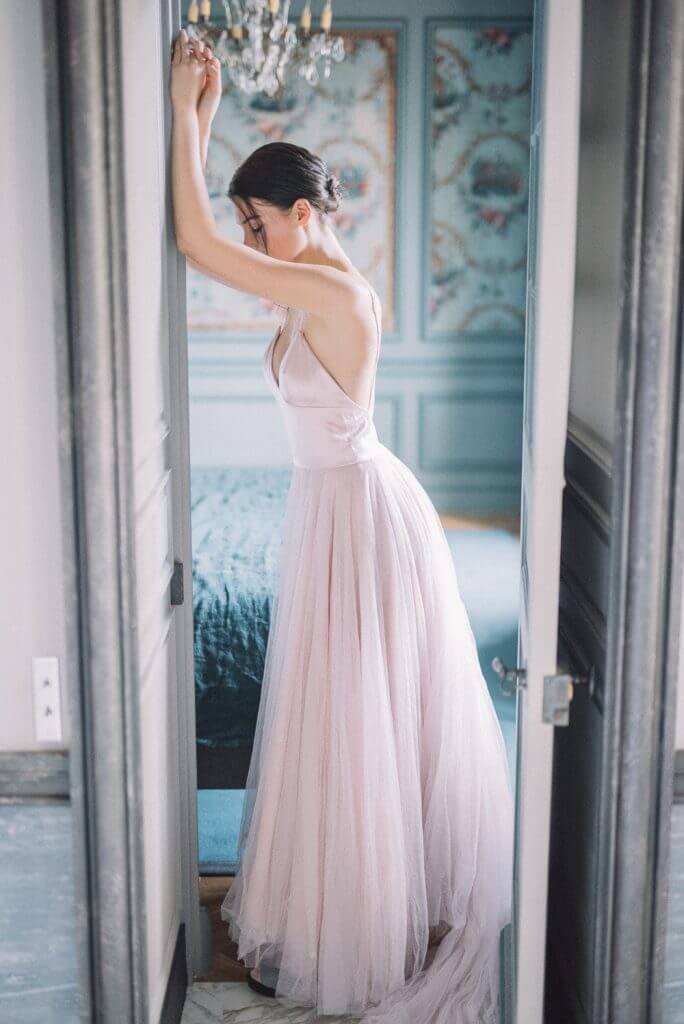 And as the Halloween season approaches, she has a tip for our fancy dress outfits. "There are definitely far too many plastic-based Halloween fancy dress outfits around now. For kids what's wrong with an old-fashioned ghost made from an old sheet with a couple of eye-holes cut out? Or that same sheet could be torn into strips and used as 'mummy' wrappings. It's so much more fun for children to be involved in making their own outfits. For adults, so much can be done with cosmetics for Halloween, there are lots of great YouTube tutorials out there – no need for throwaway plastic!"
See you again next time, for more news from the château!
Keep in touch at @châteaubouffemont