From the kohl used by the ancient Egyptians as protection against the evil eye, to the quick slick of red lipstick that heightens one's confidence before an important meeting or hot date, makeup and styling has always offered a sense of magic – and your wedding day should be no different. Château Bouffémont only works with the best, so we decided to pick the brain of top makeup artist and hairdresser (and frequent Château collaborator) Gilles Ketir for styling tips for the big day.
Gilles Ketir worked in a hair salon for 15 years before he became a makeup artist – this allowed him to hone his craft and perfect his technique by participating in a multitude of competitions and shows. As well as working with us at Château Bouffémont as a makeup artist and stylist for private events, he is also a well-established talent in the world of fashion, working with some of the industry's most respected names. As Gilles puts it: "I really appreciate the variety… All these prestigious photographers and models with incredible careers are very inspiring, and push me to bring out the best in myself."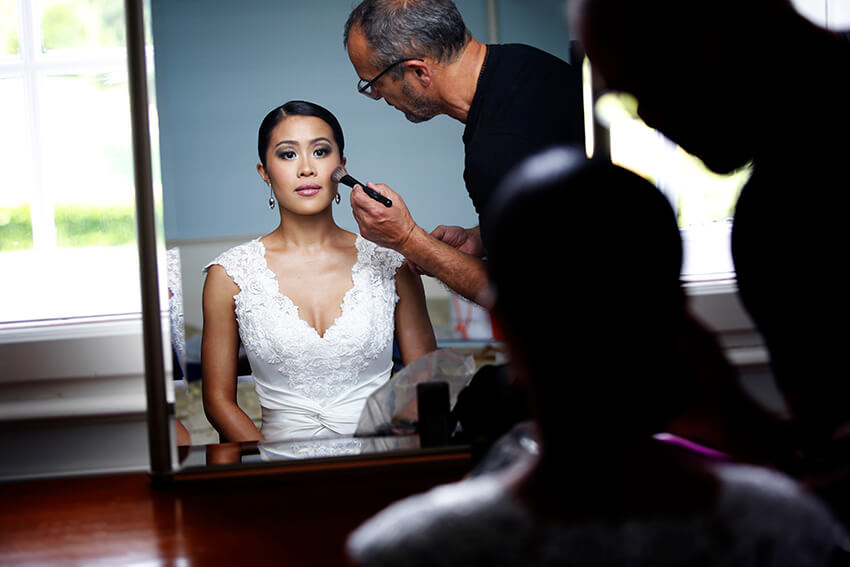 Gilles always enjoys working with us at the Château, and seems to truly understand the history and grandeur of this 19thcentury setting. He explains: "I like the place and the strength it releases – it's very inspiring. Brides also feel the magic of this place. When I dress them up and put make-up on them, and they're wearing their sumptuous dress in the vast and luminous rooms of the magnificent Château Bouffémont, suddenly everything takes on an almost divine meaning – as if this place had an inexplicable influence on us."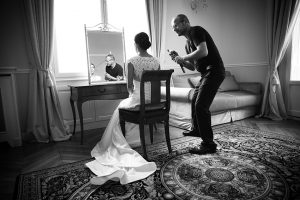 After so many years of experience, Gilles understands how personal and subjective style can be. He is firmly on the side of collaboration and mutual understanding between stylist and subject, telling us: "The personality of my bride is crucial for the approach and choices of makeup and hairstyle. I'm here to help, listen, advise and reassure her. These are decisions we make together." Gilles likes to keep up to date with the latest trends and moods within the fashion world, which he brings to his styling. This means he is always available to advise – for example, "Bohemian chic and the elegant romantic are still relevant. We are heading towards fresher make-up looks, always well-defined without being too smoky."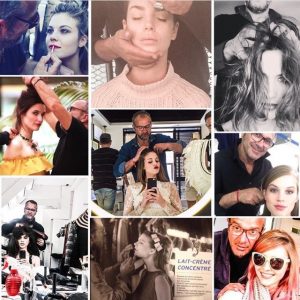 Thoughtful and hard-working in attitude, Gilles likes to focus on the job at hand – as he puts it: "You have to question yourself with every contract you make. Stay humble and work hard – this should be every freelancer's motto!" He believes that his hobby of cooking also helps him to remain humble and focused. Gilles likes working at the Château because he appreciates "the castle light – the rooms are so large and bright, very chic and romantic. I like to reuse floral pieces for hair styling, to reflect this." This summarises his inventive yet modest approach – plucking magic ingredients out of the air, to create something new.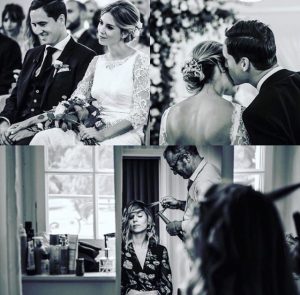 Gilles prefers to work alone, but is always willing to share his experiences and know-how with others in his industry. When not working, he loves to get outside: "I walk a lot – nature inspires me, you can find everything there. The silence is very inspiring, it forces you to get back to yourself." Luckily Château Bouffémont is ideally well-positioned for this, as it sits on the edge of the Montmorency Forest – the perfect spot to take a stroll, breathe, and find one's centre.
See you again next time, for more news from the Château!
Keep in touch at @chateaubouffemont