Each week during lockdown our General Manager, Sarp Gogebakan, has been going live on Instagram for Let's Talk Weddings – a series of interviews with Château de Bouffémont vendors offering inspiration and useful tips on weddings and events.
Last week for our Let's Talk Weddings series, our General Manager, Sarp, hooked up with Akiko Kovacs, creator of one of Paris' top floral design studios Floraison.
Originally from Tokyo, Akiko has been living in Paris since 2011; her floral designs reflect her own unique highly-refined, garden-inspired style. Here she shares with us her top tips on wedding decoration and flowers.
SG: Hi Akiko, thank you for joining us today. Let's start with all the brides and grooms who have had to reschedule their weddings, how can they stay positive during this difficult time?
Use the extra time for planning
AK: This is obviously a very difficult and uncertain time, but as we learned in Japan after the Fukushima disaster, this period will eventually end. The main advantage of lockdown is that we have more time to plan, so stay positive and do what you can to prepare your wedding. This is also true for our businesses; I've been using this time to finalize my online floral design classes which will be available by the beginning of May. It's something I've wanted to do for a long time so I'm really pleased it's coming to fruition.
SG: How do you come up with a floral design that fits the event and the budget?
If you need to optimize your budget, focus on one main area
AK: When I work on a design I start with the venue as it's important that the decoration matches the setting. Then I think about the couple's style, I don't need to know what their favorite flowers are, but I do like to get an idea of their lifestyle, fashion sense etc. to make something that suits them. Then of course we need to think about the budget, €5,000 or €50,000 doesn't buy the same things! But we can make something really beautiful even on a small budget. My advice if you need to optimize is to focus on one area, with one key item that has the wow-factor, like a flower arch, then compromise on the smaller items, rather than cutting back on everything.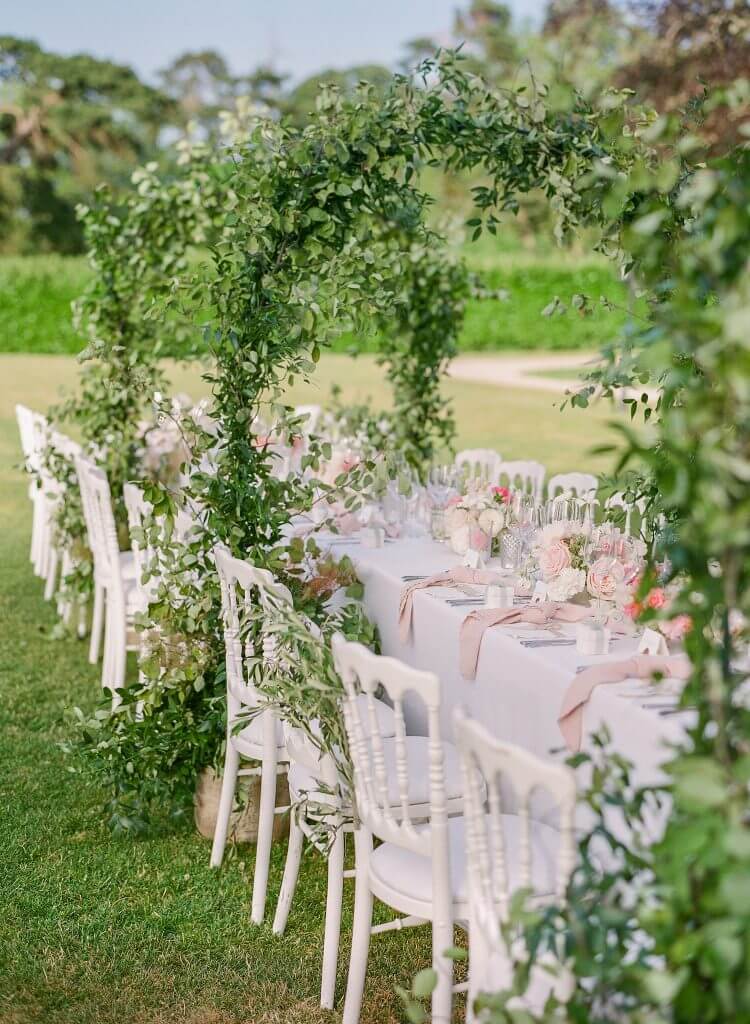 SG: What types of vases do you use and how do you choose them?
Choose vases in keeping with the style of the wedding
AK: In France where a lot of people get married in historic chateaux like Bouffémont I like to work with old, antique vases. Sometimes for a more modern look I prefer ceramics but I don't really use glass vases at all. We generally rent the vases and they are provided with the flowers which we prepare in advance.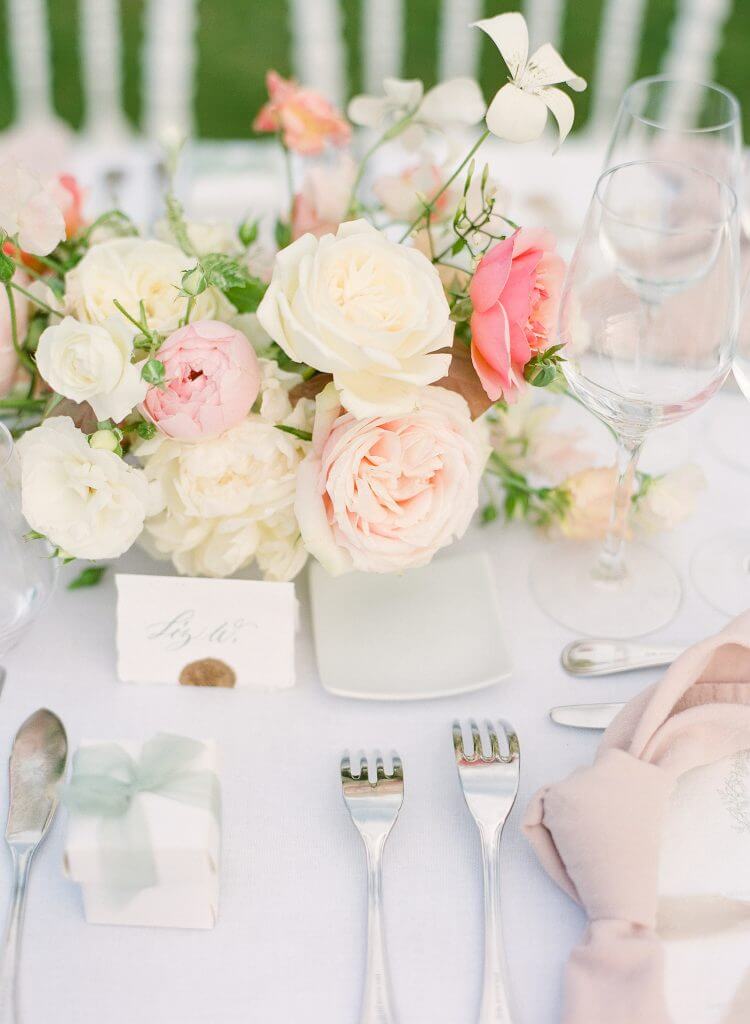 SG: What other table decorations do you like to use?
Candles, more candles… and fruit!
AK: I love to use candles which really complement flower arrangements very well. Some venues don't allow real candles, but I know that is not the case at the château de Bouffémont! I also sometimes use fruit to provide additional textures and colors.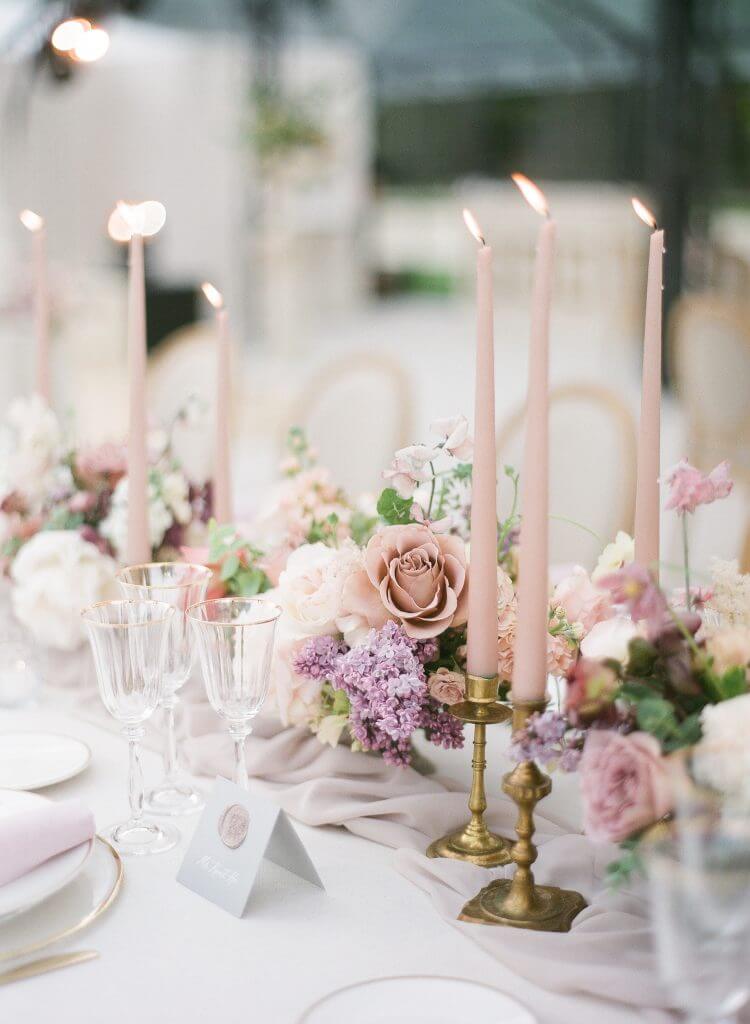 SG: What does a typical wedding day look like for you?
Do as much as possible in advance
AK:  I try to make sure I have as little to do on the day itself as possible so we prepare everything we can in advance. Some arrangements can only be done on site, like the flower arches which typically take 3 – 4 hours to set up. Our longest ever operation was at the Opéra Garnier last year, a team of 9 people worked for 15 hours from midnight to 3 pm the next day!
SG: One last tip?
AK: For couples who have already chosen their venue now is a great time to plan the decoration and flowers. Everybody has some extra time on their hands but when lockdown ends we're all going to be really busy, so try to use the time now to get ahead.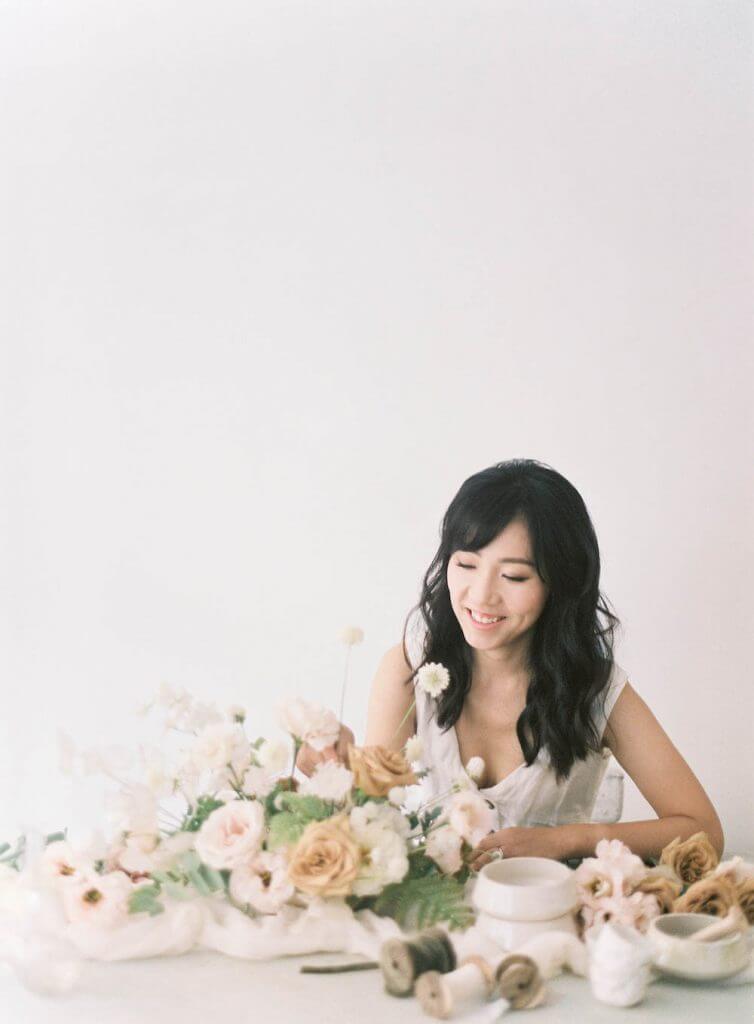 Keep in touch at @chateaubouffemont