Your wedding day is one of the most important days of your life and you'll want to put as much effort into planning it as is humanly possible.  Like everybody in this scenario, you will worry about every last detail. Have I chosen the right location? Can my guests reach it easily? Can they expect to enjoy the very best hospitality? What about the photographs or the catering?  Will there be room for everyone? A wedding checklist can seem daunting and almost endless…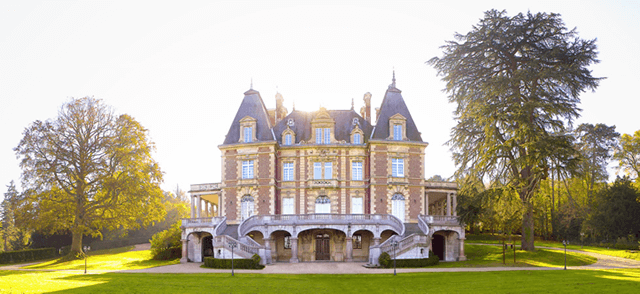 Château Bouffémont is a unique19th Century gem, nestling in the heart of the beautiful forest of Montmorency, a vast area of natural parkland, yet just 30km from the centre of Paris, the most romantic city in the world. The Château was previously owned by the Marquise de Preignes and later by Baron Edouard Louis Joseph Empain, a Belgian engineer, entrepreneur and keen Egyptologist, who set up the Paris Metropolitan Railway Company in order to create Paris's famous Métro system while the château remained in the ownership of the Empain family for over half a century.
Today, the château has been lovingly restored to its former splendour, and is available for business or private functions and luxury holidays or events as well as weddings.  The Château is a twenty minute drive from Charles de Gaulle international airport and provides a sumptuous location which is easy to reach for guests.
For those who prefer travelling overland, the village is served by Bouffémont-Moiselles railway station, just two and a half kilometres from the château, with a local line connecting with Paris Gare du Nord . The train service is every 25 minutes and more frequent at busy times of day. The journey takes under half an hour, alternatively a taxi and private chauffeur service is also available to collect guests from the airport or train station if required.
It's only right that every bride should be a princess on her wedding day, and Château Bouffémont typifies the dreamlike quality of the perfect place for any princess to receive her guests.  The Château is architecturally stunning, with its grand external staircases, pillared galleries and simply gorgeous setting; your photographer will be spoilt for choice to capture the most stunning wedding photographs imaginable. And that's just the outside! Inside, the salon des anges, which translates literally as the 'angels saloon', gives onto the gardens and offers a 70m² area perfect for receiving your guests with a glass of champagne. There is an elegant, wooden bar and a lounge area of an impressive 52m². On the ground level is a choice of three reception areas, the Grande Salle (64m²) and the slightly more intimate Salon du Baron and Salon de Marquise, each of 54m².  The Salon du Baron also features a beautiful classical fireplace.  At Château Bouffémont, we are here to make your wedding day match your personal dream, so that any or all of these rooms can be put at your disposal and laid out the way you want for your special day.
For the bride and groom and /or their guests, Château Bouffémont accommodation offers everything you could wish for.  The château boasts a total of ten sumptuous suites, most with extra-large beds and additional occasional bedding to accommodate family groups.  Each suite has its own private bathroom with a bath and shower, with the exception of the smallest rooms which have shower facilities; the château can accommodate a total of 27 people. For guests unable to drag themselves completely away from the hurly burly there is also Wi-Fi access.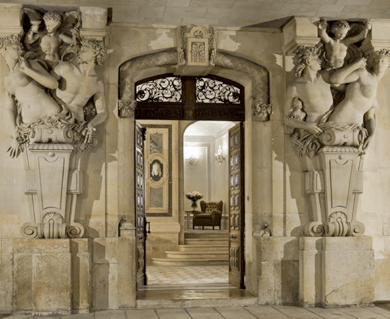 On arrival at Château Bouffémont, you will be greeted by a representative of our friendly team who will introduce you to the chef, the butler and his staff, the housemaid and the long-standing guardian – all of whom are there to ensure your experience at Château Bouffémont is one that will live forever among your most cherished memories. With help from a wide network of associates and partners, Château Bouffémont is able to tailor your experience to your personal requirements in terms of room layouts, culinary requirements, concierge services and more. We pride ourselves on reputation, and it is in our interests to ensure that your expectations are met and, whenever possible, exceeded. But please do not just take our word for all this; this is what some others have said about Château Bouffémont:
"A fantasy château for grown-up fairy tales"  
Condé-Nast Traveller
"The chateau's 19th Century style may have been reinstated [but] technology is all 21st Century"
Luxurious Magazine.com
"Acres of private land and formal gardens greet you… an ideal space for a wedding…"
Incentive Travel and Corporate Meetings
"…sweeping lawns, breath-taking views, exquisite architecture and bedrooms you've only seen in the movies!"
To be written – You and Your Wedding
Your dream experience doesn't have to begin and end with Château Bouffémont. Remember you are just a short drive or train journey away from the centre of Paris with its famous landmarks and great night life.  If you want to remain more tranquil, the Château is situated right next door to Paris International Golf Club where, as a guest of Château Bouffémont, you can enjoy privileged access to the course, the spa, the tennis courts and the indoor swimming pool. Perhaps, horse riding is your thing; we are also partnered with the renowned Haras de Bouffémont equestrian centre just along the way.
More athletic guests may want to enjoy trekking, hiking quad and mountain biking around the two lakes of the Montmoroncy forest and within a half hour drive you can enjoy sailing, windsurfing, rafting and kayaking in the Cergy-Pontoise park, and if you fancy trying something completely new, why not book a flying lesson at the Les Ailerons flying club – a ten minute drive from Château Bouffémont.  All these activities and more can be pre-booked for you by our concierge on request. All you need to do is enjoy the experience of a lifetime. Remember that we aim to tailor your experience as precisely as possible to your ideas and we would like to hear what you want from your perfect day so that we can work together to realise the wedding of your dreams.
Contact us via our contact web form and tell us what you are dreaming of.  There's absolutely nothing we love better than making your dream French Chateau Wedding come true to create an experience that you will never forget.