Our series "Château Bouffémont Live" features interviews with guests from the world of events and weddings to provide you with expert advice and insider insight. As the autumn nights draw in it's the perfect time to get started on your 2022 wedding preparations and who better to turn to for inspiration than florist Flavia Dausoa-Dautel from La Maison Dautel, who sat down with Château Bouffémont's General Manager Sarp Gogebakan to talk wedding flowers, wedding decoration and all things floral design!
SG: Hi Flavia, I've got lots of questions for you so perhaps you can first tell us about yourself and how you got into wedding flower design?
FDD: Well, I come from an artistic family and I always loved flowers as a child, but I actually started out by studying economics and worked as a Project Manager. When I had my first daughter, I decided I needed a more creative outlet, so I trained at the Floral School of Paris and it was a real revelation for me. I loved everything about it. So, I first opened my own florist's before specialising in wedding flower design and artistic floral design which is when I founded La Maison Dautel.
SG: Where do you get your inspiration from for your floral designs?
FDD: I actually spent a lot of time in museums as a child – my father works for the Museum of Fine Arts in Lille, and I can see that this really inspires my floral designs. Nature is also a very big influence on my work. What I love about wedding flowers is that every project is unique, it's months of preparation, spending lots of time with the couple, and that feeds into the process and the design. That's what I enjoy most about my job, the time I spend with the couple, helping to take a little bit of the stress off them.
SG: What are the current wedding flower trends?
FDD: I definitely think that colour is going to be a major trend. With the health crisis we have come through I feel like people are looking to bring some fun, some playfulness and some colour into their lives, so I expect a lot more requests for more colourful designs. Arrangements in Medici vases are another key trend particularly for outdoor weddings or the church ceremony.
SG: How do you choose the wedding theme and the style?
FDD: The theme and style really depend on the venue, I'm quite conventional in this area – if you want a folksy, country wedding but you've chosen a venue like Château Bouffémont I'm going to advise against it! I like everything to match – the containers, the flowers, the design, the venue. For a château wedding you can go for a period look or for a modern look but in a timeless design that won't look out of place.
SG: What about choosing the flowers themselves and the colours?
FDD: It really depends on the couple, their origins and how much they want to push the boundaries. I always say that when couples hire me as a vendor what they are actually buying is my eye for design. They can look at my portfolio and my Instagram to see what I do and how I go about it and if they like it then they just need to trust me – I'll go to the flower market and pick out what I think works best. That's why I do a lot of inspirational photo shoots to test out new colour combinations and ideas to show to future clients – it's like preparing a collection for a wedding dress designer.
SG: What advice to you have about the floral decoration for the wedding ceremony in particular?
FDD: When I prepare the floral design for the wedding ceremony I try to keep in mind the visual impact and how it will look in the photos, so I prefer larger displays like arches or Medici vase arrangements rather than small bouquets along the aisles. Ideally, you'll need to think about having aisle decorations, a full or half arch, a large bouquet behind the chairs and then you can play with arrangements of different shapes and sizes to complete the look. If budget is an issue then we can mix up the composition and include more greenery or plants, I really like working with ferns which have a great impact.
SG: How can you personalise your wedding flowers?
FDD: One trick is to use fabrics which can really look great when interwoven into the design. You can even decorate trees with flowers and fabric to create an original display. You just need to be sure you have a lot of fabric! Wood is great for a natural arch structure and if your structure is attractive in itself you can let some of it show through the decoration. I'm not a big fan of a very conventional, symmetric arch, I prefer more natural forms and patterns.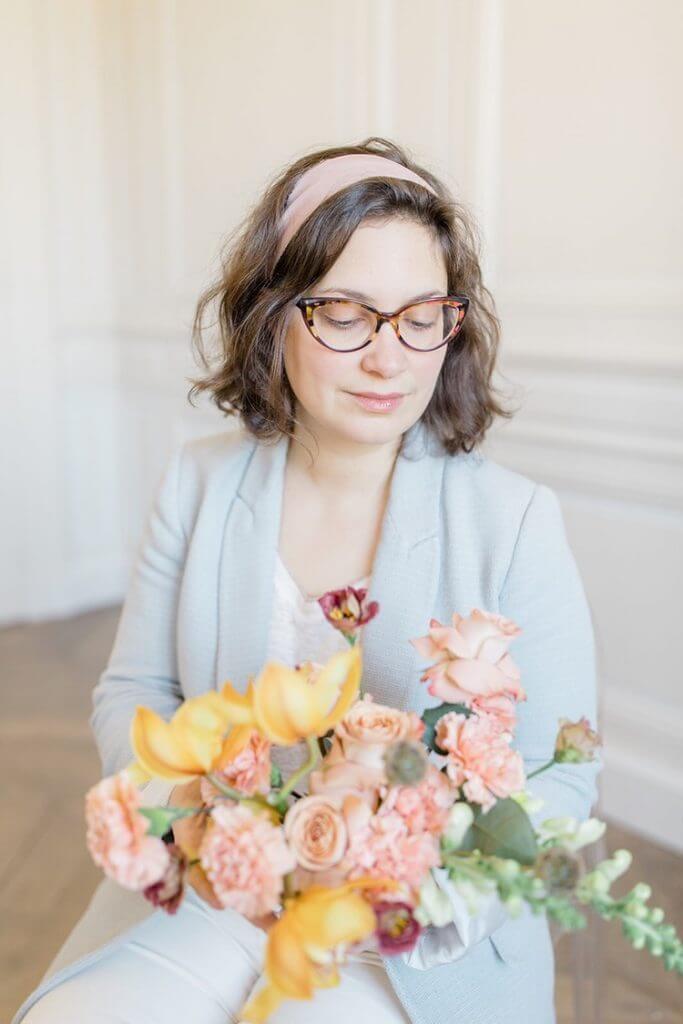 Keep in touch at @chateaubouffemont