Who hasn't dreamed of a fairytale wedding, in a movie-set castle, where a beautiful princess marries her handsome prince and they all live happily ever after? Pure fantasy? Not at all, and although the princess is now more likely to be wearing Louboutins than glass slippers, there's no reason you can't make your dream come true with a destination wedding at a romantic French château… and here's how to do it!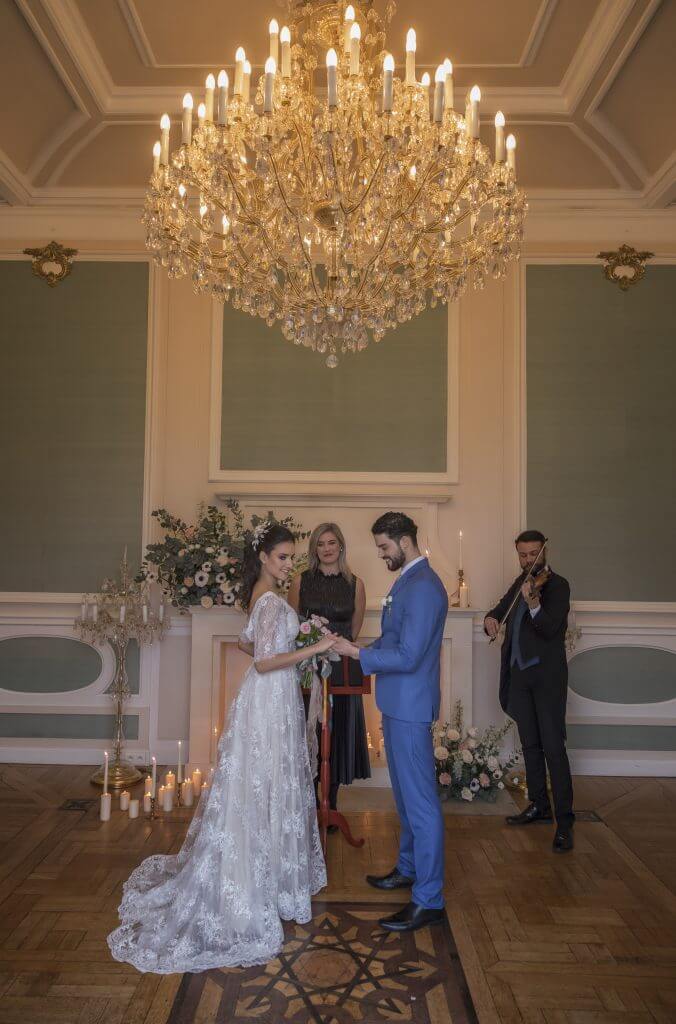 Focus your budget on what is most important to you
A French chateau like Château Bouffémont provides a picture-perfect wedding venue with its stunning interiors, picturesque terraces and idyllic gardens offering a whole host of options for your ceremony and reception. You might think this is out of your price range, but like any wedding can control the costs by making considered choices: number of guests, the time of year and day of the week you have your wedding, the size and location of the château, the vendors you use etc.
Start by thinking about what is most important to you – a large lavish wedding or a small intimate gathering of close friends and family? Partying until the small hours or dining in style before quietly retiring to your room? These are all questions that a top wedding venue like Château Bouffémont will be happy to work through with you – just pick up the phone and ask.
Choose a venue with minimum travel times
Selecting a venue within easy reach of a major airport that offers options for spending time with family and friends before or after the wedding means you won't waste precious time travelling between locations. Château Bouffémont is an ideal wedding venue from this perspective. Just a stone's throw from the capital, access couldn't be easier for your guests' arrival and departure and for excursions or photoshoots in Paris before or after your wedding. A chateau wedding also means you don't have to worry about booking separate accommodation for your guests.
Draw creative inspiration from your venue
The beauty of a prestige wedding venue such as Château Bouffémont is a great source of creative inspiration when planning your wedding: the sumptuous leafy grounds, terraces with views of the rolling countryside, prestigious suites, rooms and salons, and beautiful exterior architecture with its showpiece sweeping staircase have already inspired hundreds of couples who have tied the knot here.
Architectural features can inspire the flower arrangements, vintage patterns and textiles of the interior design can inspire your colour palette. Likewise, for an outdoor wedding the chateau's exterior architecture and gardens can influence your decorative choices.
Rely on local support for hassle-free remote planning
Planning a wedding in another country can seem a daunting prospect but when you hire a chateau for a destination wedding you will not only have a full complement of in-house staff on hand to help you plan your stay but also the very best outside vendors to provide everything you need: from wedding catering to music, wedding photography to decoration, taxi services and babysitters. Of course, we can also arrange for you to benefit from the services of a dedicated wedding planner. This lets you benefit from their knowledge of the area and experience in organising events at the venue, taking a weight off your shoulders. You can sit back, relax and enjoy your dream day, knowing everything is taken care of.
Why not plan a vacation around your wedding?
Depending on how long you stay in France, Château Bouffémont offers a whole range of activities for before or after your event. Our location close to Paris means you can visit the Eiffel Tower, the Louvre and the Arc de Triomphe or book once-in-a-lifetime experiences such as exclusive wine-tastings, hot-air balloon rides or a private boat cruise along the Seine.
Your Dream Wedding at Château Bouffémont
The château is available for exclusive private rental for weddings or events and our staff are on hand to provide their expert advice and support right from the start of the planning stages. So why not get in touch today to find out how we can make your dream wedding a reality? Fill out our contact form here or call us on +33 (0) 1 39 91 20 94
Planner @lajolietta
Music @violinist_paris
Officiant @yes.in.paris
MUA @thaisalvesbraz
Hair @sabrinabroussillon
Flowers @be.one.paris.florist
Dress @universo.karenrodrigues
Suit @franzenalfaiataria
Accessoires @eliana.rodriguesdesigner