To celebrate Easter, our Chef adds a little excitement to the traditional family dinner of lamb.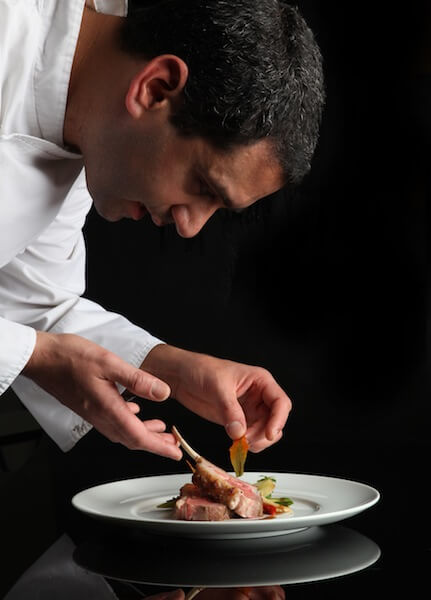 In your basket
For a perfectly balanced spice mix…
5g coriander seeds / 5g ground cardamom / 5g cloves / 5g ground cinnamon / 1g ground anise / 0.5g ground saffron
For a delicately flavoured stuffing…
For 250g stuffing: 5 sheets of filo pastry/ 1 egg white, beaten / 200g lamb shoulder, trimmed and ground / 20g dried figs / 20g pitted prunes / 20g pitted Medjool dates / 10g roasted almonds / 10g rosemary, chopped / 3g spice mix / 40g uncooked foie gras, softened / 20g Sainte Maure goat cheese / Salt and pepper
Make the spice mix
Mix all the spices together. Put aside in a dry place.
Prepare the samosas
Put the meat in a pan with half the spice mix. Add 1 dl water and a little salt.
Mix, cover with a lid and cook on low heat for 15 min. Remove the lid and cook until all water is gone. Take the meat off the pan, let it cool 10 min in a plate.
Meanwhile, dice the dried fruits, foie gras and goat cheese in 5mm-pieces. Thoroughly mix the meat and foie gras until fully incorporated. Then, add the fruits, cheese, almonds, leftover spice mix and chopped rosemary.
Add salt and pepper to taste. Slice the brick sheets into 20 pieces, 20 x 5 cm each. Rub egg white on top of the sheets, place 10g stuffing on one corner and fold into a samosa. Store in a cool place.
Cook the samosa
Fry the samosa in a deep-fryer at 180°C. Drain on paper towels, add salt as needed.
You are ready  to taste it.
Chef's tips
1. Be creative and come up with your own samosa shape. Why not shape samosas as a cigar, for an elegant version?
2. Practical tip: these delicacies can be made ahead. In this case, freeze them before deep frying.
3. You can serve your samosa as finger food, side dish or appetizer with greens on the side.