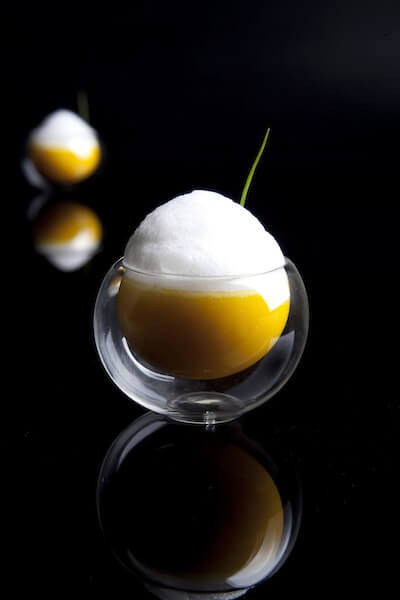 To celebrate Thanksgiving, our Chef had fun turning pumpkin into cream soup.
In your shopping basket
For the pumpkin cream soup
500 g (1 lb) of pumpkin
One white onion
1.5 litre (1.2 quarts) of water or chicken stock
300 ml (10 fl. oz) of whipping cream
Salt
For the ginger mousse
200 ml (7 fl. oz) of milk
20 ml (4 teaspoons) of grape seed oil
10 g (0.3 oz) of ginger
Salt.
PUMPKIN CREAM SOUP 
Mince the onion.
Sweat it with a little salt, but do not let it brown.
Dice the pumpkin and add it to the onion.
Add water or stock until the liquid reaches twice the height of the vegetables. Reduce the liquid by half, add the cream and bring to a simmer.
Remove from the heat and blend with a stick blender. Season to taste.
GINGER MOUSSE 
Grind the ginger. Bring the milk, ground ginger and a little salt to a boil and brew for 30 minutes.
Strain, then slowly add the oil to the milk, whisking constantly until emulsified .
Pour the pumpkin cream into a bowl and place the ginger mousse on top.
1.  You can easily substitute nutmeg for the ginger.
2.  This delicious appetizer can be served hot or cold.
3.  Serve the soup in a transparent bowl or shot glass in order to showcase its colour.