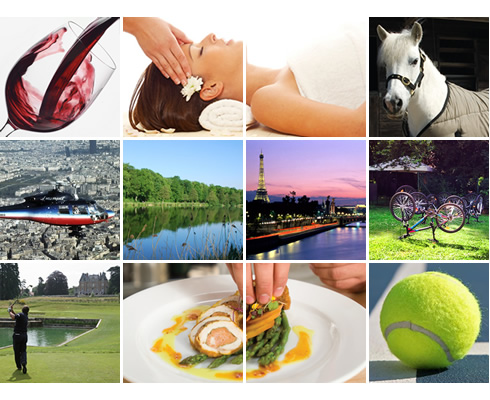 At the heart of the Montmorency forest, the Domaine du Château Bouffémont is the ideal setting for your recreational activities. Adapted to your skill level, they are always supervised by a certified professional.
Leisure time finds its full meaning at Château Bouffémont.
Sports activities
Hiking, trekking, quad and mountain biking for all ages around the two lakes of the Montmorency forest
Fitness and dance lessons
Water sports, flight training
Bird watching, boating or relaxation on France's largest freshwater beach, at L'Isle-Adam
Gourmet activities
Cooking classes, chocolate workshops, grands crus tasting, champagne tasting, food and wine pairing, mixology classes
Art activities
Singing lessons, photography, floral design classes, perfume creation, table setting.
Cultural activities
• Around the Château :
The National Renaissance Museum, the Jean-Jacques Rousseau Museum, the romantic royal Abbaye Royaumont, the village of Auvers-sur-Oise that served as a source of inspiration to impressionist painters Van Gogh, Cézanne, Corot and Daubigny
• Located barely 30 km (18.5 miles) from Paris, the Château is also the starting point of a trip to the City of Lights:
Theatre, opera, museums and landmarks of Paris, … our team takes you on a discovery trip of Paris hotspots.
For children
Let our team do the work: we will suggest you fun activities, suitable for their age: live entertainment and performances, gardening, arts and crafts workshops, cooking classes, chocolate workshop...
Our activities vary according to the time of the year and your own wishes.