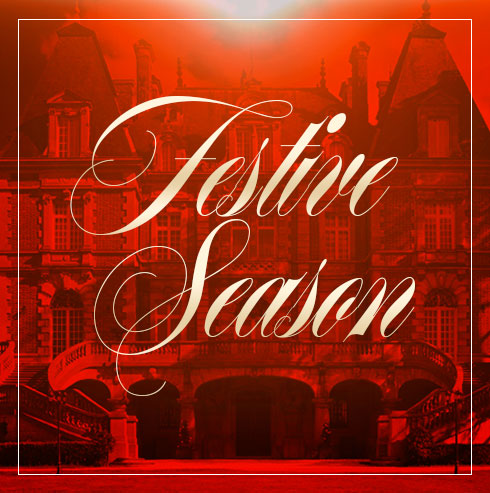 Imagine yourself surrounded by the most loved ones from all the generations of the family in an enchanting setting that feels just like home; the soothing light of the festive decorations, the crackling sound in the fireplace, the sweet smell of the turkey cooking and you will realize that you are actually at home.
Your two-night festive season break includes:
• The exclusive use of the Château and its grounds:
- Five grand halls including a bar and a games room
- Nine suites & rooms for accommodation
- An additional separate guest kitchen accessible 24 hours a day
• A dedicated team for a full service including a private butler, chef, concierge and housekeeping
• Home-made cookies for children and champagne for adults on arrival
• Holiday season decoration prepared by our floral designer
What to do?
The first night:
• Pre-dinner drinks and canapés
• Festive five-course dinner served with paired wine – click here to view the menu
• Drinks & Relaxing by the fireplace in the charming Salon du Baron
Second day
• Savory brunch served to welcome a new day
• Enjoy a wealth of winter activities in the local area from a relaxing stroll in the park, to a cycling trip around the village or a horseback riding session
• Three-course lunch prepared by provincial ingredients and served with paired wine
• Movies & Games in the Dandy Lounge
• Champagne Afternoon Tea with snacks
• Four-course dinner with the Chef's surprise, served with paired wine
Just before leaving:
• Enjoy your breakfast for a relaxed morning
Terms and Conditions:
For 15.350 € (from 1.535 € per night, per room)
Two nights' inclusive rental based on five rooms occupied
For 19.550€ (from 1.085 € per night, per room)
Two nights' inclusive rental based on nine rooms occupied
This is a limited offer for a minimum of two-night stay available from December 1st, 2018 to January 10th, 2019 and subject to availability.
Rates do not include the additional services, may depend on the number of the guests and are subject to change.